In a recent revelation that's set the business and tech circles abuzz, serial entrepreneur Gary Vaynerchuk along with VeeFriends have officially announced that VeeCon 2024 will be making its grand entry into the heart of Los Angeles, specifically at the L.A. LIVE Entertainment District, come August 9-11, 2024. This announcement, emanating from New York on September 28, 2023, comes as a refreshing update for the myriad followers and enthusiasts who've been on the lookout for the next VeeCon rendezvous.
Making its illustrious debut in the city known for its dynamic ethos, VeeCon is not just a conference; it's a modern-day business congregation that epitomizes the essence of "the present." This spectacle assembles a sterling roster of speakers, pioneers, and thought leaders who are at the helm of shaping the industry's future. The event is envisioned as a transformative journey that's designed to enlighten and empower its attendees.
Gary Vaynerchuk couldn't hold back his excitement about the promising ambiance that Los Angeles brings to the table. He noted, "With its world-class venues and accessibility, Los Angeles offers a dynamic environment for attendees to engage and connect with each other," going on to add how thrilled he is to present this unparalleled experience to both the city and the attendees in 2024.
The third rendition of VeeCon is meticulously curated to echo the pulse of today's business milieu across five pivotal themes: Business, Marketing, Technology, Innovation, and Popular Culture. The event has a rich legacy of hosting a star-studded lineup of speakers from various domains. Some of the notable speakers from the past include Jessica Alba, Drew Barrymore, Bobbi Brown, Deepak Chopra, Neil Patrick Harris, Arianna Huffington, Daymond John, Bozoma St. John, Pam Kaufman, Kevin Plank, Tim Tebow, and Timbaland.
To delve deeper into what VeeCon 2024 has in store or to get a hold of tickets, one can visit https://veecon.co/.
VeeCon is more than a multi-day conference. It's a vibrant confluence of business acumen, innovation, technology, marketing insight, and pop culture, all under one roof. Helmed by VeeFriends CEO and Creator Gary Vaynerchuk, VeeCon is the epitome of engaging dialogues and captivating performances from both iconic and emerging leaders across the aforementioned domains. With each passing year, it's carving a niche as the flagship event where attendees foster lasting relationships, exchange groundbreaking ideas, and foster a thriving community.
Gary Vaynerchuk, often hailed as "GaryVee," is a revered figure in the entrepreneurial realm, known for his knack in discerning trends and patterns way ahead of the curve, aiding others in grasping how these shifts influence consumer behavior. His investments reflect his foresight, having invested early in behemoths like Facebook, Twitter, Tumblr, Venmo, Snapchat, Coinbase, and Uber.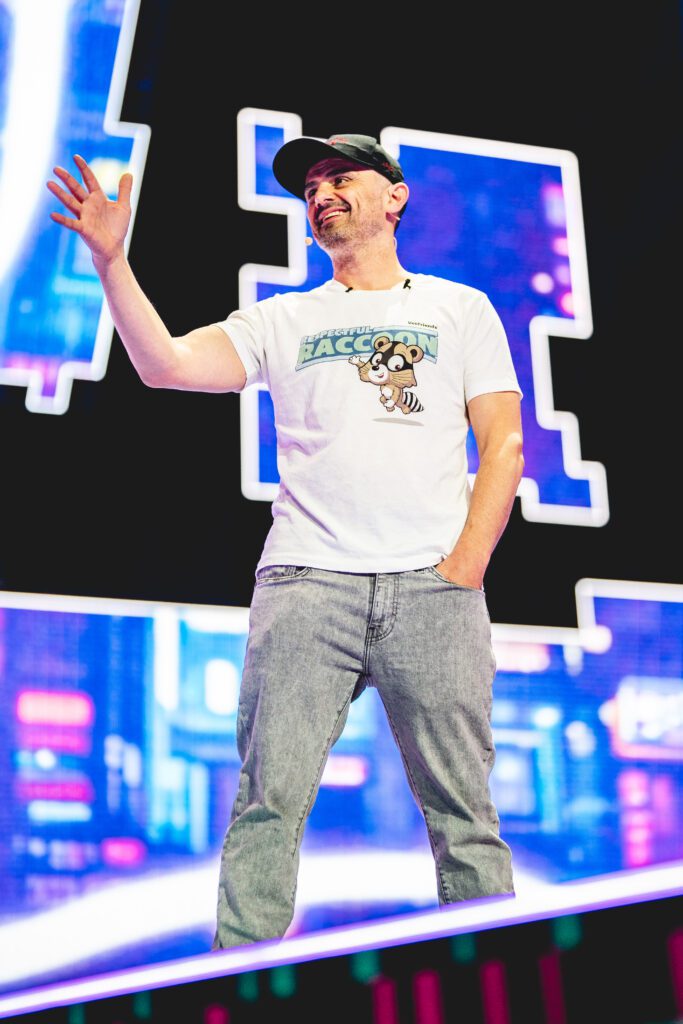 VeeFriends, the contemporary entertainment venture, is pioneering a movement that intertwines art, storytelling, collecting, events, and cutting-edge technologies to foster a community radiating kindness and positivity. At its core, it aims to scale the essence of 283 unique VeeFriends characters, each embodying attributes that inspire creativity, self-discovery, accountability, and personal growth.
For more insights, head over to https://veefriends.com/ and be a part of the burgeoning community on their Discord channel.
TL;DR: Gary Vaynerchuk and VeeFriends have unveiled that VeeCon 2024 will be held in Los Angeles from August 9-11, 2024, at the L.A. LIVE Entertainment District. This modern-day business summit will cover key themes like Business, Marketing, Technology, Innovation, and Popular Culture, offering a platform for attendees to engage with industry leaders and pioneers.