Breakaway Festival returned home in peak form for their 2023 outing.
Over the years, Breakaway has transformed from a modest two-city event to a staggering seven-stop festival tour. The logistics of hosting seven two-day festivals in just five months is enough to make the most experienced promoters tremble in terror but the Breakaway team succeeded and celebrated an excellent Ohio outing ten years after they made their debut.
Breakaway Ohio 2023 was held at Historic Crew Stadium, the former home of Major League Soccer's Columbus Crew. The festival featured two main stages and a silent disco for local and regional acts. The grounds were small and easily traversable, leading to a laid-back experience that was a refreshing breath of fresh air in contrast to events with many schedule conflicts and mile-long hikes between sets.
The first day of festivities featured a diverse mix of genres covering everything from hard-hitting bass to tech house. Disco Lines, Coco & Breezy, and Surf Mesa took full advantage of the beautiful summer day with bright melodies that had the crowd smiling from ear to ear.
The lone bass artist of the evening, Ohio native Crankdat, threw down masterfully produced heavy-hitters that satiated fans who prefer music that bites back. In stark contrast , Elderbrook, Hayden James and ayokay sprinkled their introspective and enchanting soundscapes on partygoers before headliner Chris Lake took the stage.
As you would expect, Lake's set was perfectly tuned to have everyone in the venue bouncing nonstop as if it was one big sweaty house party. Closing out the night was the future bass pioneer Flume, who sent us home with an exhilarating live set featuring the talents of frequent collaborators Kučka and Vera Blue.
The second day brought in some hip-hop via Bryce Vine and charlieonnafriday to service festival-goers who enjoy music outside the electronic realm while San Holo, Baauer, MEMBA, Pauline Herr, Snakehips and Magdalena Bay sprinkled in sounds from experimental bass, trap, drum & bass and pop.
One of the best sets of the weekend came from EDM.com Class of 2023 inductee Knock2. Jumping all over the place with bone-crunching bass drops and infectious basslines, he delivered a remarkable bass house mix that left everyone in attendance in need of a breather before they could continue on with their weekend.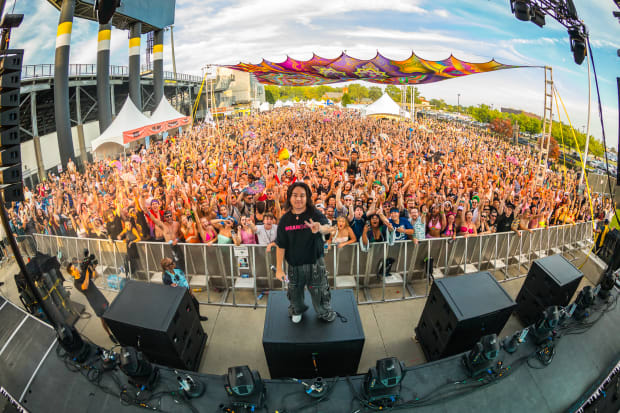 The first of Breakaway 2023's day two headliners was Porter Robinson, whose DJ set was really something to behold. The set was absolutely not for those looking for him to simply press play on his biggest hits. Playing nearly more songs from others than originals, he got himself into some absolutely absurd situations mixing together experimental bass, dubstep and Jersey Club with electronic classics from The Prodigy, Daft Punk, Alice Deejay, Benny Benassi and Basshunter.
At one point, Robinson laughed and told the crowd, "The music I make sure is different than the music I like to DJ." All in all, it was one of the finest performances from Robinson we've seen and had us completely enthralled, frantically searching for IDs.
Closing out the two-day event was none other than Zedd. In true mainstage fashion, he used his anthemic, vocal-heavy originals to electrify little old Ohio in a way only an artist who's played the biggest stages in the world can. With everyone in the crowd screaming their lungs out to certified hits like "Stay The Night," "Clarity" and "Spectrum," the festivities ended with a bang, fueled by lasers, pyrotechnics and confetti cannons to wrap up another successful weekend run.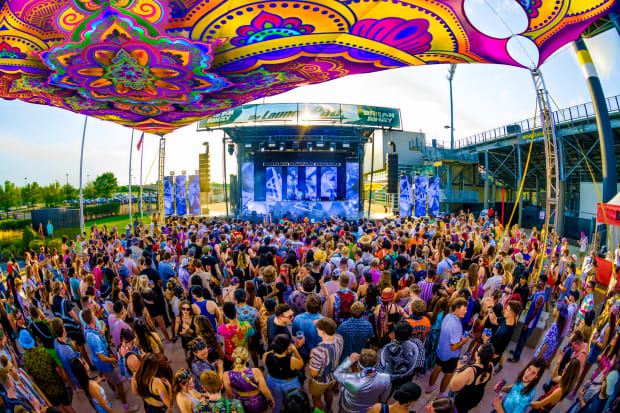 Alongside the music, Breakaway Ohio offered a few extracurricular activities for attendees who needed a break from the beats. In the middle of the festival grounds was the Corona Roller Disco, a pop-up skating rink soundtracked by the main stage. Here, fans could strap on some roller skates and glide around to the sounds of Breakaway biggest stars.
Festival-goers were also encouraged to check out the sounds of the world's future headliners at the triple-threat silent disco. On the stage were three acts playing simultaneously next to each other with LED lights above them corresponding to the channel to tune into. It was nice to see organizers select artists from Columbus, Cleveland and many other parts of Ohio to feature at the party, seeing as the event started in the Buckeye State.
Breakaway Ohio 2023 was the fourth stop on the seven-festival run. Coming up next is Breakaway Boston from September 15-16, Breakaway Carolina from September 29-30 and Breakaway Bay Area from October 13-14. You can check out the lineups and purchase tickets to any of the upcoming events here.
FOLLOW BREAKAWAY FESTIVAL:
Facebook: facebook.com/breakawayfestival
Twitter: twitter.com/BreakawayFest
Instagram: instagram.com/breakaway
Website: breakawayfestival.com