GPU-powered surgical-simulation devices are helping train more than 2,000 doctors a year in lower-income countries to treat cataract blindness, the world's leading cause of blindness, thanks to the nonprofit HelpMeSee.
While cataract surgery has a success rate of around 99%, many patients in low- and middle-income countries lack access to the common procedure due to a severe shortage of ophthalmologists. An estimated 90% of the 100 million people affected by cataract-related visual impairment or blindness are in these locations.
By training more healthcare providers — including those without a specialty in ophthalmology — to treat cataracts, HelpMeSee improves the quality of life for patients such as a mother of two young children in Bhiwandi, near Mumbai, India, who was blinded by cataracts in both eyes.
"After the surgery, her vision improved dramatically and she was able to take up a job, changing the course of her entire family," said Dr. Chetan Ahiwalay, chief instructor and subject-matter expert for HelpMeSee in India. "She and her husband are now happily raising their kids and leading a healthy life. These are the things that keep us going as doctors."
HelpMeSee's simulator devices use NVIDIA RTX GPUs to render high-quality visuals, providing a more realistic training environment for doctors to hone their surgical skills. To further improve the trainee experience, NVIDIA experts are working with the HelpMeSee team to improve rendering performance, increase visual realism and augment the simulator with next-generation technologies such as real-time ray tracing and AI.
Tackling Treatable Blindness With Accessible Training
High-income countries have 18x more ophthalmologists per million residents than low-income countries. That coverage gap, which is far wider still in certain countries, makes it harder for those in thinly resourced areas to receive treatment for avoidable blindness.
HelpMeSee's devices can train doctors on multiple eye procedures using immersive tools inspired by flight simulators used in aviation. The team trains doctors in countries including India, China, Madagascar, Mexico and the U.S., and rolls out multilingual training each year for new procedures.
The eye surgery simulator offers realistic 3D visuals, haptic feedback, performance scores and the opportunity to attempt a step of the procedure multiple times until the trainee achieves proficiency. Qualified instructors like Dr. Ahiwalay travel to rural and urban areas to deliver the training through structured courses — and help surgeons transition from the simulators to live surgeries.
"We're lowering the barrier for healthcare practitioners to learn these specific skills that can have a profound impact on patients," said Dr. Bonnie An Henderson, CEO of HelpMeSee, which is based in New York. "Simulation-based training will improve surgical skills while keeping patients safe."
Looking Ahead to AI, Advanced Rendering 
HelpMeSee works with Surgical Science, a supplier of medical virtual-reality simulators, based in Gothenburg, Sweden, to develop the 3D models and real-time rendering for its devices. Other collaborators — Strasbourg, France-based InSimo and Pune, India-based Harman Connected Services — develop the physics-based simulations and user interface, respectively.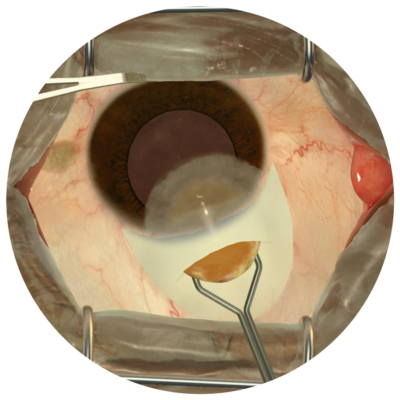 "Since there are many crucial visual cues during eye surgery, the simulation requires high fidelity," said Sebastian Ullrich, senior manager of software development at Surgical Science, who has worked with HelpMeSee for years. "To render a realistic 3D representation of the human eye, we use custom shader materials with high-resolution textures to represent various anatomical components, mimic optical properties such as refraction, use order-independent transparency sorting and employ volume rendering."
NVIDIA RTX GPUs support 3D volume rendering, stereoscopic rendering and depth sorting algorithms that provide a realistic visual experience for HelpMeSee's trainees. Working with NVIDIA, the team is investigating AI models that could provide trainees with a real-time analysis of the practice procedure and offer recommendations for improvement.
Watch a demo of HelpMeSee's cataract surgery training simulation.