One of the industry's most respected creatives will make his entrance into NFTs on Nifty Gateway later this afternoon.
Spending the past two decades as a graphic designer by the name of ISO50, Scott Hansen is showcasing his multifaceted talents by blending his love for visual art with audio clips from the Grammy-nominated moniker Tycho.
The project – TYCHO: ISO50 – fuses the two worlds to offer the first collectible version of the long-standing graphic design cornerstone.
The collection – Element – features clips from four unique locations underpinned by unreleased music. Each scene captures a memory in a different landscape to highlight why Tycho's live shows are some of the most sought after in the industry.
With three open editions and a 1/1 auction, the top bidder will also take home a lifetime VIP +1 pass to any Tycho headline, a one hour studio tour and a signed physical print.
But, these details only scratch the surface on what makes this release so special.
ISO50 Origins:
Long before starting Tycho, Hansen thrived under his graphic design alias ISO50.
Back in the heyday of flash-photography blogs, Hansen built the ISO50 brand into one of the most coveted corners of a booming design community. With FWA awards under his belt, Hansen's work was featured throughout some of the most influential albums of the last decade – including Pretty Lights' A Color Map in the Sun:.This portfolio recently started to resurface on iso50.com – taking viewers through the depths of the ISO50 portfolio all the way back to 2001.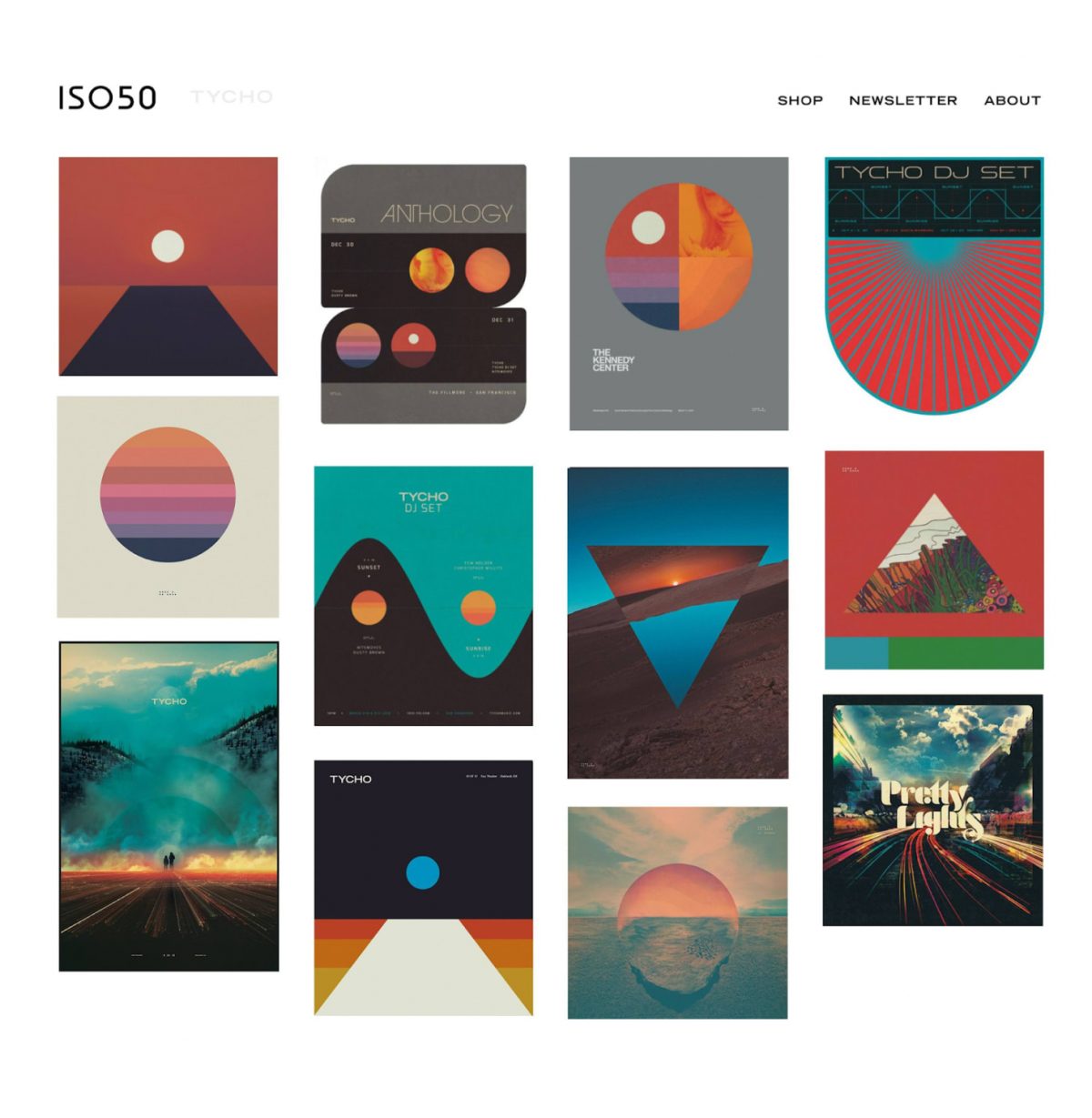 It was in these years that the Tycho project started to take form – largely as the output of the ISO50 operating system.
"Tycho is the soundtrack for the imagery and visual world that is ISO50," says Hansen. "It's like I hired myself to score the film I made as a visual artist."
And score that film he did. In the coming years, Tycho went on to receive multiple Grammy-nominations for the best electronic / dance albums – all of which are described in detail throughout his portfolio.
Taking one look under the hood on "Awake," the description offers a behind-the-scenes look at color pallets, inspirations and iterations that led to the final product. They say the devil is in the detail, and yet somehow Hansen continuously finds a way to symbolize the most natural elements of life in a minimal, symmetric masterpiece.
The Road Ahead:
As the physical world starts to take form, the crossover between TYCHO: ISO50 is blooming with it.
Fresh off six sold out shows, Hansen is returning with the first TYCHO: ISO50 performance in ten years. It's no coincidence that his first NFT collection is a direct lens into that world, offering collectors a way to own part of his continuously evolving universe.
Outside of Nifty Gateway, Hansen has vocalized his desire to tokenize many areas of the project – looking to NFTs as a way to turn the ephemeral video content of Instagram into permanent media owned by the community.
"Video has never found a meaningful home" notes Hansen. "It always felt like a promotional extension that's very ephemeral. I'm glad to have an outlet to capture a permanent moment in a really meaningful way. "
While it's still early days for this industry vet, it's safe to say that this sector is primed for exploration. Hansen presented his vision on a number of community chats – most notably a Tycho & Friends live stream with RAC, a Friends with Benefits Coffee Time Discord chat, and a Gremlins Discord AMA.
Through these conversations, Hansen made it clear that his portfolio is ripe to be tokenized, and that Tycho fans can expect many more web3 projects to make their way to the ISO50 universe in the coming months.
For fans looking to own a piece of ISO50, this collection will serve as the first chapter of a growing story for one of the past decade's most multi-talented minds.