Key Takeaways:
Decentraland's first Metaverse Fashion Week commences tomorrow.
Renowned fashion brands like Dolce & Gabbana and Tommy Hilfiger are participating.
MANA looks poised to benefit from the increased hype surrounding Decentraland.
Decentraland's MANA token appears to be building bullish momentum for a potential breakout in the lead-up to its Metaverse Fashion Week event.
Decentraland Hosts Metaverse Fashion Week:
MANA could be gearing up for a significant bullish impulse as Decentraland prepares to host: its first Metaverse Fashion Week event.
Starting tomorrow, Decentraland will host a four-day virtual catwalk featuring multiple runway shows, afterparties, and pop-up shops. The event will occur in Decentraland's Luxury Fashion District and is set to feature a host of big names from the fashion world, including Dolce & Gabbana, Tommy Hilfiger, Dundas, and Etro. Several digital fashion brands, including the Fabricant, will virtually showcase their new collections.
"Through: [Metaverse Fashion Week], we endeavor to broaden the horizon of what "Metaverse" means. We just leveled up the playing field for the world of fashion and decreased the limitations. Even in the Metaverse, you'll be needing a "fit," Decentraland Foundation's Creative Director Sam Hamilton said in a press release.
The first-of-its-kind event has brought a significant amount of attention to Decentraland. It comes after a recent: Gartner report: estimated that 25% of the world population would spend at least one hour per day in the Metaverse by 2026. Although MANA has not reacted yet to the news, it could be positioning itself for a bullish breakout.
MANA Poised to Break Out:
The Metaverse token appears to be developing a head-and-shoulders pattern on its four-hour chart. A decisive close above the technical formation's neckline at $ 2.52 could result in a 12% upswing toward $ 2.88. The optimistic target derives from the distance between the pattern's neck and head.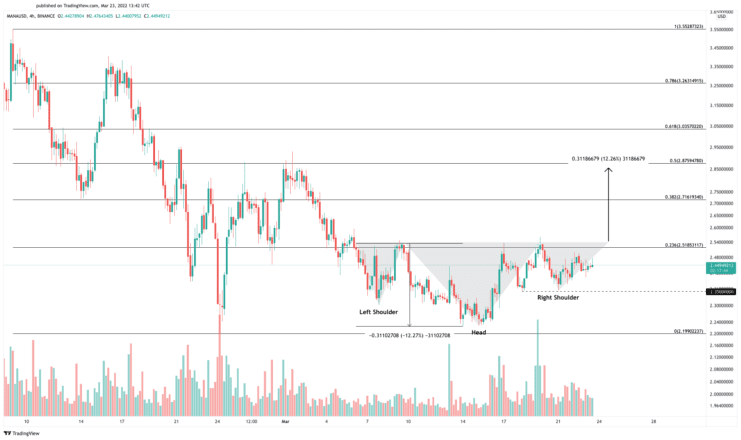 It is worth noting that MANA must continue to trade above the $ 2.35 support level for the optimistic outlook to prevail. Any signs of weakness around this price point could encourage traders to exit their positions. Under such circumstances, MANA could retrace to $ 2.20.
Disclosure: At the time of writing, the author of this piece owned BTC and ETH.
What is a Crypto Airdrop: Why Projects Airdrop Crypto:
Crypto airdrops occur when new tokens are freely distributed to different wallets in order to drive initial growth and build a community. They represent a popular marketing tactic that new projects use to spread …
What Can You Do in Decentraland's Metaverse?
Join Crypto Briefing as we explore the events, games, and attractions bringing players into the virtual world of Decentraland. What Is Decentraland? Decentraland is a 3D virtual world owned by …
Samsung Opens Virtual Store in Decentraland's Metaverse:
Electronics giant Samsung is opening its first virtual store in Decentraland, a blockchain-powered Metaverse world. Samsung Enters The Metaverse Samsung is expanding its presence to the virtual world. The electronics …
What Is Decentraland? Introduction to LAND and MANA Token:
What Is Decentraland? Decentraland is a blockchain-based virtual reality platform built on the Ethereum blockchain. Like Minecraft or Second Life, there's no real objective in Decentraland. Instead, users traverse a …