StoryLink Radio and Seanchai Library will host a series of Halloween-themed live voice, streamed, and in-world storytelling sessions during the month of October, which is high story-telling season.
Virtual world citizens are welcome to listen to the stories at the Halloween Merchant Mall in Kitely. There will also be a simultaneous video feed and chat on StoryLink's YouTube Channel for all the stories.
The audiences can come to the performances dressed in theme for each of the particular stories or just as they are.
As is usual for all other story sessions hosted by StoryLink, a live host or storyteller will tell the story while the audience can also participate by chatting with each other and commenting about the stories, both in-world and over StoryLink's YouTube channel.
The hypergrid address to the Halloween Merchant Mall is grid.kitely.com:8002:octoberworld.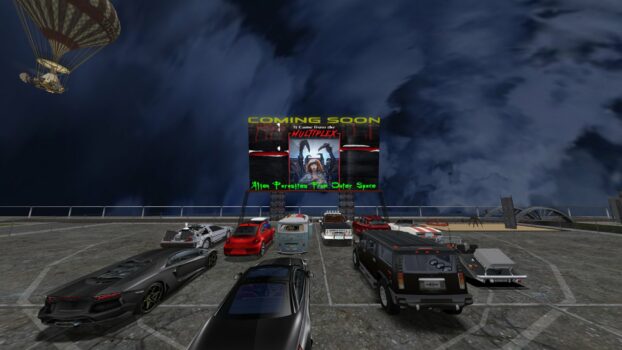 A new story every night
StoryLink will present a new short story every night throughout the month of September as countdown for Halloween continues.
The stories will cut across different genres, including haunts, ghosts, and suspense. You can follow the series on StoryLink's YouTube Channel. The YouTube channel also currently has more than 100 archived stories for on-demand listening.
Here is the series of Halloween-themed stories from StoryLink Radio:
In The Pines: This is an Appalachian ghost or horror story by Karl Edward Wagner which pre-figures The Shining, a story that was published three years ago. Time and date: 7 to 8:30 p.m. Pacific time, Thursday, September 28.
Trouble in Braids: This is a supernatural noir hard-boiled detective tale featuring Los Angeles private eye Sam Hunter who does not have a soft side but an inhuman side. Time and date: 7 to 8:30 p.m. Pacific time, Thursday, October 5.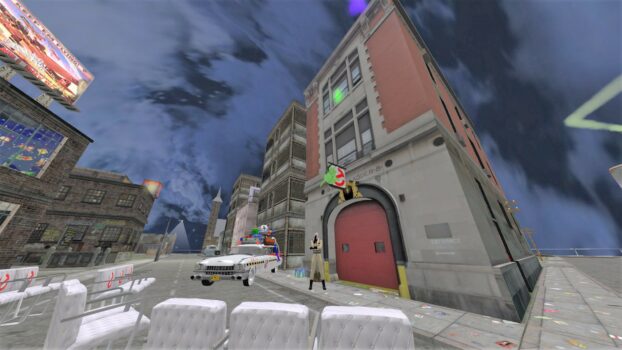 Heartseeker – Space Horror: This story will explore the extraterrestrial nightmares and horrors that happen in the deepest, darkest depth of space where the stars are cold and there is no benevolent first contact or utopian worlds. Time and date: 9 to 10 p.m. Pacific time, Thursday, October 5.
Scary Stories at the Campout Sleepover: The Annual Campout Sleepover in the Haunted Forest will happen from 6 to 8 p.m. Pacific time, on Thursday, October 12. The fun and scary stories to be told are suitable for 10-year-olds and up. Come in your favorite Halloween jammies. There will be campfires, tents, sleeping bags, candles, pizzas, popcorn, candy flashlights, marshmallows, dark stormy night, and readings from Scary Stories for Sleepovers provided.
Friday Special: 1408 by Stephen King: In this story, Mike Enslin — the best selling author of true ghost stories — decides to spend the night in New York's most haunted hotel room. The story has been made into a movie starring John Cusak, Samuel Jackson, and Tony Shalhoub. Time and date: 7 to 8 p.m. Pacific time, Friday, October 13.
Sticks: The lovecraftian, psychedelic gothic horror tale is a precursor to The Blair Witch Project. Time and date: 7 to 8:30 p.m. Pacific time, Thursday, October 19.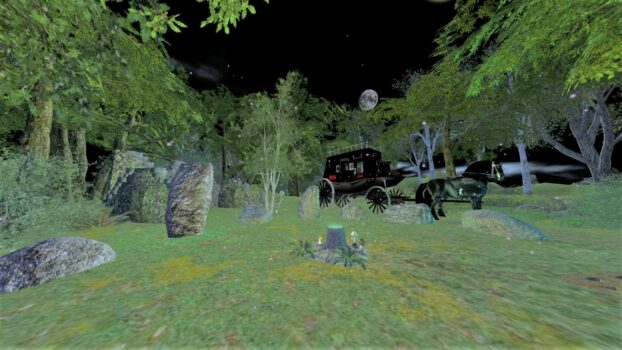 Trio of Alien Horrors, The City of Frozen Shadows, The Black Ocean, and Graveyard: Trio of Alien Horrors unravels horrors such as happens in movies Alien, Jaws, Terminator, X-Minus One, Twilight Zone, and Outer Limits. The  City of Frozen Shadows is about the last living man on Earth who hides in a gutted city that is haunted by alien exterminators. The Black Ocean is about astronauts who, adrift in a misty alien ocean, are attacked by a gigantic predator. The Graveyard story explores the deepest, darkest depths of space. The stars are cold, malevolent eyes looking across a vast vineyard of the unknown, the unnameable, and the undead. The planets are tombs, and the moons are haunted catacombs. Time and date: 7 to 8:30 p.m. Pacific time, Thursday, October 26.
A Halloween Story: A surprise Halloween-themed story about monsters and goblins. Time and date: 3 to 4 p.m. Pacific time, Thursday, October 31.
One More Pumpkin: The surprise pumpkin tale will keep your little Halloween pumpkin flame lit. Time and date: 7 to 4 p.m. Pacific time, Thursday, November 2.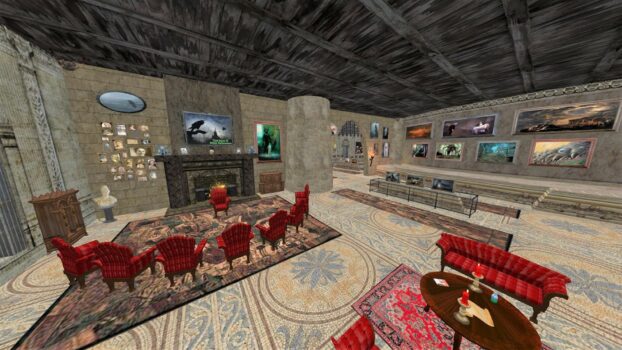 Halloween-themed items at the Halloween Mall and Seanchai Library
The Halloween Mall is open all year round and harbors free Halloween and Autumn merchant items while the Seanchai Library also hosts autumn-themed presentations, poems, and stories from numerous artists and storytellers during the autumn seasons.