Key Takeaways:
The number of short Bitcoin positions has surged on Bitfinex.
Such market behavior has coincided with downward price action in the past.
Further selling pressure could push BTC below $ 34,400, triggering a capitulation event.
Bitcoin has looked shaky for weeks, with many large investors favoring the downside. The increasing downward pressure could push BTC to break support and suffer a steep correction.
Bitcoin Spells Trouble:
Bitcoin continues to trade sideways while large investors appear to be betting on an upcoming capitulation event.
Data from Datamish shows that there has been a significant increase in the number of short Bitcoin positions taken out on Bitfinex. It appears that a group of large investors or institutions borrowed roughly 1,500 Bitcoin worth $ 58.5 million from the Hong Kong based cryptocurrency exchange with the expectation that prices will decrease in the near future.
A total of 4,982 Bitcoin have been lent on the exchange, and most of the short positions are non-hedging at the time of writing.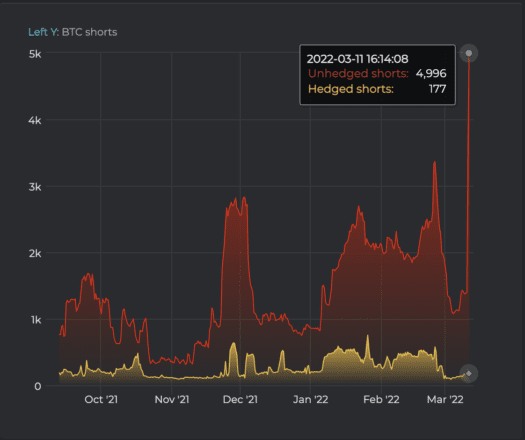 The sudden spike in short positions comes as Bitcoin faces consistent rejection from the 50-week moving average after weeks of testing the critical resistance barrier. Still, the top cryptocurrency appears to hold above a vital support area represented by the 100-week moving average at $ 34,400. A decisive close below this demand level could lead to a downturn for Bitcoin.
Based on the weekly chart, a decisive candlestick close below the 100-week moving average at $ 34,400 could have the potential to ignite panic selling among market participants. If this were to happen, Bitcoin would likely capitulate toward the 200-week moving average at around $ 20,000 to begin forming a market bottom.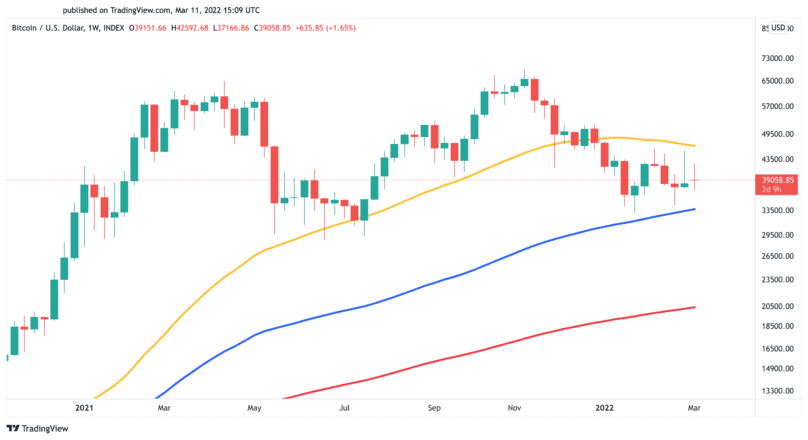 The respected on-chain analyst Willy Woo has also said that he thinks that institutions and large holders have not stopped selling Bitcoin. He stated that a price crash could be imminent given that Bitcoin has historically endured capitulation events in previous bull markets. In a Mar. 10 Substack post, he wrote:
"There's no question we are in a bear market due to the duration of the sell-off. There's never been a bottom of a bear market in BTC without a capitulation event, so I think there is a high probability that this region breaks down, and we test lower lows before accumulation takes place to set up for the next bull cycle, " said: Woo.
Bitcoin is currently trading at around $ 38,850. It's about 43.4% short of its all-time high.
Disclosure: At the time of writing, the author of this piece owned BTC and ETH.
NFT Express: Your on-ramp to the world of NFTs:
At Tatum, we've already made it super easy to create your own NFTs on multiple blockchains without having to learn Solidity or create your own smart contracts. Anyone can deploy …
UK Watchdog Orders Bitcoin ATMs to Shut Down:
The Financial Conduct Authority has ordered all crypto ATMs in the UK to shut down. UK Crypto ATMs Forced to Close The FCA has declared that all operational crypto cash …
Lugano Introduces Bitcoin, Tether, LVGA as Legal Tender:
Citizens will be able to use Bitcoin, Tether, and LVGA to pay for taxes, goods, and services. Lugano Announces "Plan B" The City of Lugano is introducing Bitcoin, Tether, and …
Bitcoin Is at Risk as Support Weakens:
Bitcoin has reversed to a critical support level that will determine where it is heading next. Although this demand zone appears to be weakening over time, there is one reason …