Jaw-dropping visuals, sunrise sets, impromptu B2Bs and over 25 hours of haunting melodic techno—Afterlife's New York takeover had it all.
2023 marked Afterlife's fifth fall pilgrimage to the Brooklyn Mirage since its 2018 debut at the sprawling open-air venue. It's since become a September staple, and each edition trumps the last.
This year, the label's takeover expanded from a single show to a three-day event for the first time. Anticipation was high—tickets sold out within 30 minutes of going on sale, six months ahead of the event.
Brooklyn Mirage's gargantuan, 300-foot, 14K LED video wall was a perfect fit for Afterlife's mind-bending visuals. To up the ante, the brand added an array of lasers and lighting rigs that framed the stage.
Using real-time generative technology, visual artist Ben Heim brought the video wall to life. From abstract designs to blooming flowers and hyperrealistic waterfalls, he combined audio-reactive feedback and interactive control to craft what felt like an infinitely morphing spectrum of scenes.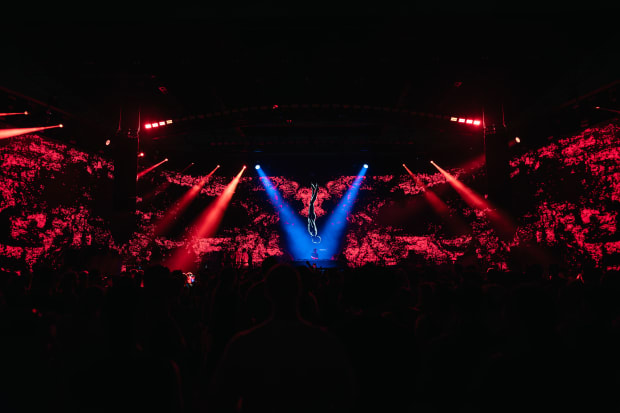 Though visuals are a core element of the Afterlife experience, the music is what keeps revelers on the dancefloor. This time around, we were treated to three sets from the label's founders, Tale of Us. Plus, the hotly anticipated North American debuts of the duo's respective solo projects, Anyma's Genesys and MRAK's We Don't Follow. Afterlife mainstays Stephan Bodzin and Mind Against were also on the bill, as well as newcomers Argy and Cassian.
With stellar production and dusk-to-dawn programming across three nights, Afterlife felt almost like a festival, a feeling many New York dance music fans were likely craving after the Electric Zoo debacle only a week prior.
For a taste of the Afterlife experience, here are five of the most memorable moments from the three-day takeover at Brooklyn Mirage.
Anyma debuts a new audio-visual piece
Matteo Milleri, one-half of Tale Of Us, has skyrocketed in popularity over the past year with his solo endeavor, Anyma.
Genesys, his debut album which released this summer, explores the relationship between mankind and technology. The record blends themes of sentience, connection and dystopia through cerebral techno.
Under the direction of Alessio De Vecchi, Genesys is translated into surreal humanoid visuals fine-tuned for each space in which they are featured. A quick glance at Anyma's social media shows a marked difference between the way the visuals fit the narrow hall of London's now-defunct Printworks, the wide wall of Brooklyn Mirage and the lush jungles of Tulum.
But even a fresh, 14-track LP paired with one-of-a-kind visuals wasn't enough for Anyma to fuel his momentous North American debut.
In a set jam-packed with jaw-dropping moments, one stood out above the rest. Here, metallic tentacles slithered from each end of Brooklyn Mirage's colossal video wall. One by one, they tethered to an ember android that brandished sharp, blazing wings as Anyma beckoned fans to "enter the simulation" through a high-octane, unreleased track with Chris Avantgarde (who's also featured on two Genesys tracks).
View the original article to see embedded media.
Chilling visuals during MRAK's live performance
Carmine Conte, the other half of Tale Of Us, has also taken his solo career off under his MRAK moniker.
MRAK's We Don't Follow project sees him surrounded by racks of synthesizers and analog gear on stage. He's joined on either side by live instrumentalists, giving his moody electronic music an organic touch.
While videos of his performances aren't blowing up on social media quite like those of Anyma, the visual element is an equally important piece of MRAK's live show. Unlike his Tale of Us counterpart, MRAK's visual direction is more elusive. Dramatic quotes and supernatural imagery dominate the screen, shrouding MRAK in an air of mystery.
This theme felt stronger than ever during his Brooklyn Mirage set when a haunting face with cracked, charcoal skin and piercing eyes—pupils ablaze—emerged on screen. It felt like something out of a horror movie. The sinister scene was elevated by a track full of melancholic strings and menacing bass stabs.
View the original article to see embedded media.
A magical moment at dawn with Tale of Us and Argy
It's clear that MRAK and Anyma are taking precedence over Tale of Us. While the duo have been busy releasing music for their solo projects, Tale of Us hasn't released a track in over two years.
At Brooklyn Mirage, MRAK and Anyma were scheduled for prime-time slots, deferring to perform as Tale of Us deep into the night from 5 to 7am. While some bemoaned the graveyard shift, it made for an unforgettable Sunday morning where the sky glowed with a magical orange tint as Tale Of Us played a set brimming with IDs.
Argy jumped on the decks too, leading to a surreal sunrise moment soundtracked by ATB's classic '90s tune, "9Pm (Till I Come)."
View the original article to see embedded media.
Cassian drops unreleased RY X Remix
Who could've imagined Cassian pivoting from breezy house you might hear on Anjunadeep to Afterlife's dark, melodic techno?
Last year's Afterlife show at Brooklyn Mirage was Cassian's first ever performance for the label. Since then, he's become a staple in Afterlife's live roster. Plus, he's released two tracks with Anyma: a remix of Jimi Jules' hit "My City's on Fire" and "Save Me," a song off Genesys.
He celebrated his Afterlife anniversary with a gripping performance at Brooklyn Mirage, treating the crowd to his stunning unreleased rendition of "Lençóis (Love Me)" by RY X.
View the original article to see embedded media.
Mind Against closes with "Walking Away"
The third and final day of Afterlife was somewhat soured by nonstop rain. But it made for a dazzling light show with lasers glistening through raindrops.
Seizing the moment, Mind Against ended their set with a rare play of their stirring tune "Walking Away." The song's yearning vocals and emotive synths never sounded better.
View the original article to see embedded media.